Unlike FHA and Conventional loans, VA does not have a guideline that says a borrower can not get a loan on a home that has a short chain of title.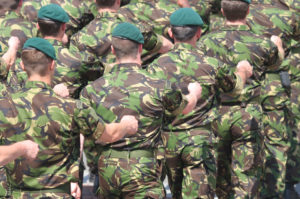 Define:  Chain of Title – A chain of title is the sequence of historical transfers of title to a property. The "chain" runs from the present owner back to the original owner of the property. In situations where documentation of ownership is important, it is often necessary to reconstruct the chain of title. 
Some loans require that a home has not been sold or changed hands/titles in the recent 90 days…that would be referred to as a short chain of title and could signify a "flip".
Although VA underwriting guidelines does not restrict their military veterans home loan abilities specific to length of title, it is important that you know underwriters will see the short chain of title and make sure the home is in good shape by requesting an inspection of the property and maybe even requiring that the seller pay the buyer at closing for a home warranty.  The reason being, when a home has been bought and sold and then put back on the market so soon, this is a typical scenario for flips.  Flips are not bad, but typically a flip happens when investors find a home in bad shape, and therefore get a discounted price on the home.  This allows them to fix up the house and resale it for a profit.  The underwriter is going to do the due-diligence to make sure that the if there was work done on it, it was done satisfactorily…this protects the buyer and the lender making sure the collateral (house) to the loan is "safe, sound, and sanitary".
If there has been work done on the property, ask your seller for any inspections they have had done, and if there has been foundation work, request a foundation engineer's report to send to your lender.