Before the weekend got here, I thought I might get this post out so that the Frisco Mortgage readers could see a clear picture of when the no cost refinance makes since rather than the full cost, whether you are rolling in the cost or paying them out of pocket.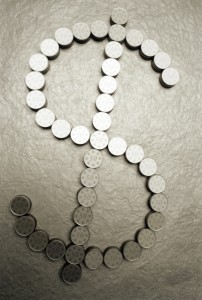 Ultimately, in many cases, cash is king.  Therefore, you try to not give it up unless you have plenty to go around.  On the other hand, equity is king too, and if you have any hopes in selling your home in the next 8 years or so, you would like to not have to increase your loan amount where it ends up costing you in the end on the sale.  The middle ground, the no cost refinance.  It works for VA, FHA, USDA, Jumbo or non-conforming, or Conventional.
Planning to move in the next 3 years?
Here is where the no cost refinance can help you.  As long as you can save some on your monthly, or even better, reduce the time in which you pay the house off, it is a good deal for you.  My wife and I had a 30 yr fixed mortgage on our home and refinanced it into a 15 yr fixed about 8 months ago, and our payment only increased about $70.  The good thing, we are intending on moving up to a bigger home in the next couple years and we'll have about $15,000 more equity by then this way than if we stayed in the 30 yr.
No plans to EVER move, but have no interest in increasing my loan amount.
Maybe just for the "feel", you have the equity to roll in costs, but do not want to increase your loan amount…that does not "feel" good to me either, so I understand.  You have cash, but just do not see a value in paying a couple grand in closing out of your pocket.  Lower your monthly payment or lower your term of the loan, and it's good.  There is a great chance that even a home owner with a current interest rate of 6.25% 30 yr fixed FHA or Conventional mortgage can refinance into another 30 yr fixed today at around 4.875%-5.375% and lower their payment by $50 or more dollars and get to skip a month of mortgage payments…you might want to use that month savings toward a Summer vacation.  (In this scenario, I the lender can pay your costs and the loan will not be increased).
Since rates are at nearly an ALL TIME low, and certainly at a 60 year low, you could refinance into a 15 year conventional or FHA type loan today and get rates in the range of 4%-4.25% at a full cost refinance where you pay your closing costs out of pocket or refinance…APR expects to be around 4.23%-4.41% in those above scenarios if you care about APR so much.
Frisco Jumbo mortgage refinances are happening at a faster pace than normal right now also because rates are so low.  Have jumbo mortgage rates dropped so low too?
YES!  Today on a full cost mortgage in the jumbo sector, full cost refinance at 15 yr fixed and you are securing a 5.125% rate, and no cost refinances at 5.5%-5.75%…if there was only a way to tell all the jumbo mortgage borrowers out there about these rates, because there are a million jumbo mortgages at 6.75% and higher right now…from 6.75% to 5.5% on a jumbo 15 yr, you save over $400 a month likely.  The 30 year fixed jumbo mortgage is sitting at a full cost refinance at 5.375% and the no costs refinances could range from 5.75% – 6%. 
Moving.com reported some good hopes for todays rates and a good gauge to look in on from day to day as well.
What kind of information does your mortgage guy for life need to give you a healthy review for a refinance?
What is the address?
How long are you planning to keep the property?
What is your current interest rate? 
What is your current balance? 
What are your current taxes? 
What is your current yearly insurance? 
What is your current house payment now? 
What month/year did you originally close? 
What type of mortgage do you currently have- if you know?  (FHA, Conv, etc) 
Do you pay your taxes and insurance in the house note or separately?
What do you think your house is worth (i.e., what is the neighborhood going for?)