How much seller contribution is allowed on the FHA loan, and how do you calculate it?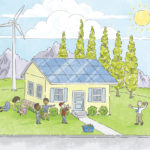 FHA mortgages allow the seller to contribute 6% of the sale price, toward closings cost for the borrower.  This means that you can take the sale price of the home, and multiply it by the sale price.  This contribution can not be used to cover any part of the minimum down payment that FHA requires.
For more questions regarding FHA guidelines, you can comment below, or contact us.  If you prefer to hear about this topic, you can listen in about Frisco FHA Seller Contribution.