Fast Efficient Refinance and Home Purchase Mortgages
The home loan industry in the Dallas area, including cities like Flower Mound and Frisco for sure, is seeing a high volume of business and many of the local major banks are having trouble closing their clients on time.  As most of my clients realize that we are cheaper, have lower rates in most cases, and are faster than the local banks, business is booming for us too.
Our Fast Track speedy loan process is one of the tools we use to close our clients on time.  It helps make refinances and home purchase loans more comfortable and less hassle for our clients.  Below are the details. 
If you find this to be a beneficial post, please share it through your social networks.  It's good for business.  Check out my Your Mortgage Guy For Life Facebook business page, and please LIKE it.  https://www.facebook.com/YourMortgageGuyForLife?ref=hl
Click on the image below for a larger view.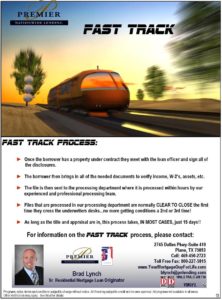 Check out my video blog explaining our Fast Track process in a little more detail.  🙂