The dumb down 3 step home shopping process is easy and simple.  I've shared this with many of my past mortgage clients over the past 10 years.  Home buying clients of mine came to me 5, 6, 7, and/or 8 or more months before they were ready to actually make a move into a new home.  They sometimes say, "I don't really know how to get started."  For years now, when I have clients that come to me trying to do things right and are really trying to plan months ahead, I give the same piece of advice.  Three step it sir/madam!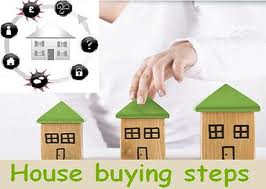 Step 1 below would obviously include getting pre-approved (link is my online application) for a home loan if you knew you needed to borrow money for your home.  This post is more about the home shopping part.
Step 1-  Find Realtor & Get Automatic Email List of Homes For Sale:
First, I match these clients up with a Realtor that I think would work best with them.  When a buyer has many months ahead of them before they can or want to move, I suggest they first just get on an MLS (Multiple Listing Service…see definition at bottom of post) drip.  If you do not know exactly what area you want to live and are torn between 2-3 areas, cities, or communities, this is a way you can take weeks to view homes from your home computer in those areas without dragging a Realtor around aimlessly for months.  STEP 1, complete.
Step 2- Window Shop Drive Around
  Once you are about 3 months out from buying, hopefully you've been on the MLS drip long enough to see what houses in what areas you are going to most like.  I found for myself, and by experience in listening to many other families talk, shopping solely by your home computer can be misleading.  Therefore, when you are 2-3 months out from buying, I suggest that you reconnect with your Realtor and schedule a single showing appointment and maybe only pick your favorite 5 homes that are on the market.  This way, you  can get a real taste of what is out there, and have a chance to physically drive around in the area/community you have settled and see the homes.  You may find small pockets of homes in your area much more to desire or you may find what areas you can begin to avoid.  STEP 2, CHECK!
STEP 3- Active Shopping & Bidding
You are a month and a half to 2 months out from buying your first home or move up home, and you are no longer a window shopper.  You are now full fledge homebuyer looking for your home.  Set your appointment with your Realtor on your favorite homes you find on MLS and start making your bids.  Be prepared to make spur of the moment appointments as homes come on the market, because the best of the best homes with the right prices do not stay on the market long.  Oops, I may not have stressed my point.   Let me say it again.  The best of the best homes with the right prices do not stay on the market long.
Definition –  MLS/Multiple Listing Service.  This is the online list of homes that Realtors use when listing homes for their prospective sellers nationwide.  You can search for homes on the MLS if you are a Realtor or member of the MLS and use very specific search variables, and you can set it up to send you homes automatically by email if new homes with your search criteria as they come on the market.
If you would like help finding the best Realtor for you and your family, please contact me and I'll make sure you find one that is interested  in finding you the best house, and not interested first in your commissions.