Apply Online With Local Mortgage Company Frisco, Plano, and Flower Mound
If you are looking to work with a local Mortgage company to refinance your current FHA home loan, our corporate office is located in Flower Mound TX, and the majority of my business has come from home owners and home buyers in Frisco TX, Flower Mound TX, and Plano TX. 
Benefit to Applying Online and Security

 By applying online, you can share your application with us on your own time.  Our online application is secure and embedded and you will have the opportunity to have your own user-name and password.  This makes it possible for you to go in and start the application, and if you get busy and need to come back and finish it when you have more time, you can sign back in with your user-name and password and finish the application. 
Expectations Using State of the Art Online Application and Promise of Promptness
Your online application will come directly to me…the loan officer.  Upon filling this out and my receiving it, I will follow up with an email to you within 24hrs, but in most cases, within minutes of you signing off.  In that email, I typically ask if you would like me to move forward in running a credit report or if you would like to share your refinance or purchase scenario with me before I do anything.  If you respond and tell me to run your credit, I'll prequalify you for what ever loan you request withing 24 hours.  In most cases, a refinance process from start to finish is at or under 30 days…it really depends on your ability to promptly return requested documentation to us.  On purchases, our loan process can be as quick as 2-3 weeks if needed, but for best service, we suggest giving us 25 days to process your loan.
Credintials of Your Mortgage Guy For Life and Facts of Proven Service Success
I look forward to working with you and promise to deliver the best service the industry offers.  In the past 10yrs, well over 90% of my business has come by referral, so you will not be treated in the way a high volume online generating lead mortgage company treats their clients.  It will be my number 1 goal to earn your respect to the extent you enthusiastically refer your friend, neighbors, coworkers, and family to me. 
10yrs of Testimonials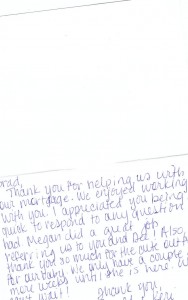 My Closing Picture Gallery…I attend most of my local closings to ensure satisfaction my service. 

If you changed your mind and want me to take your application over the phone, contact me directly.  Nine out of ten times, I answer my phone on the first call between 9am and 4pm Mon-Fri, and nine out of ten times that I miss a call during that time, I return the call within minutes.  Contact me directly!