When can I buy or refinance my home after a foreclosure, shortsale, bankruptcy chapter 7 or 11, or after a modification?
There are different times in which one must wait before they can apply for a home loan after a bankrutpcy, shortsale, foreclosure, or modification, and depending on the type of loan you are using, they are all different.  This chart is a GREAT illustration on those timelines, or as we say in the mortgage industry, seasoning time after the loss.
To view this bankrutpcy, foreclosure, shortsale, or modification chart more legibly, click on the chart below.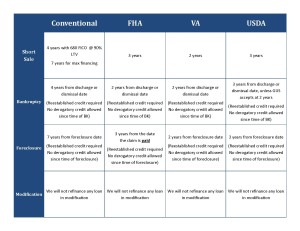 Keep in mind, if you had a foreclosure during your bankrutpcy or after your bankruptcy, you will use the chart to find out what your wait time is after the foreclosure.  If you have more questions, please feel free to contact me directly.
Take a look at these other FHA guidelines for more questions.
Take a look at these other USDA guidelines for more questions.
General information regarding Conventional financing guidelines.