Can I get a VA mortgage after Bankruptcy?
Are you a military veteran looking to buy a home and use your certificate of eligibility to utilize a VA mortgage to help buy a home? You may have many questions and uncertainties if you have a bankruptcy in your past.  There are a couple of key components to know if you can qualify for a VA mortgage after a bankruptcy.  If you can meet the below requirements after your bankruptcy and you have a COE (cert of eligibility), you will be fine.  If you are not sure after reading them, please feel free to call me directly.  The company I work with and I have been doing VA loans for many years, and not only are we good at them, but history shows that we not only compete, but beat our competition in affordability all the time.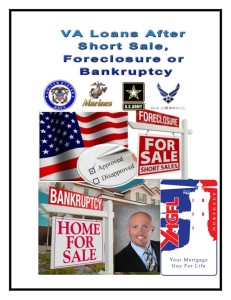 You must wait 2 years from the date of the DISCHARGE of your bankruptcy before you apply for VA mortgage.  KEY POINT:  if you included your house in the bankruptcy, then you must wait 3 years to apply
Upon discharge of your bankruptcy, you must have re-established good credit.  This means you need to have lines of credit that show no lates since the discharge.  If you have any lates on your credit after the dates of discharge, these can sometimes be overlooked on a case by case basis with a good explanation…keep in mind, many times medical collections, charge offs, and derogatory marks on credit are many times ignored, but be prepared to explain.
You need to have a 640 middle credit score.  If the spouse and the veteran are needed to qualify, then they will use the middle credit score of the lowest scoring borrower. 
Okay!  Outside of these details, all other VA underwriting guidelines apply.  If your credit file after bankruptcy will meet the aforementioned requirements, the rest of your file will be underwritten with the same guidelines as any other VA mortgage like yours.
In most cases, I can pre-approve you in less than 24 hours, and I do not charge for this service.  My clients only incur charges if we close their mortgage loan.  Please contact me for your mortgage.
For more questions about other loan programs and their requirements after a bankruptcy or foreclosure.