Texas Mortgage Pre-Approval Steps for Success
The Real Estate market in Texas, especially in the Dallas and surrounding areas, is a true seller's market (seller's market = there are more buyers than there are sellers). This means homes that are listed to sale and are priced right, there is a likelihood there will be multiple offers within the first week the home is listed. What does this mean to you as a buyer? You need to be able to make an offer with negotiating factors that separate you from your competition, which are the other buyers that are making offers on the same house you want. One of the things that I try to do as a loan officer to better equip my buyers with stronger offers is, fast closings. Below are steps and the process that make it possible for you to get ahead of the game, and add a negotiating value on your offer to win a bid on a home against multiple similar offers. Get Pre-approved now!
Get your file underwritten BEFORE you are ready to make a bid on a home:
This means you need to let your Loan Officer, such as I, take a full loan application on you, run credit, and submit all of your income, asset, identification, and other processing documents to the underwriter. When you get the first underwriting approval/feedback, it will likely have additional requests that the underwriter will ask for, called conditions. Your loan officer will request that from you, and then you can resubmit those conditions for another approval that will essentially be an approval in condition that the home you eventually buy will meet appraisal value and requirements (below I will list out typical processing items needed). Once you get to this point, your loan officer can inform your Realtor to communicate to the the listing agent of any home you bid on that you are fully approved in condition that the appraisal comes back, and you can likely close sooner than the typical 30 day timeline that most transactions and buyers follow. The two negotiating factors that may make your offer more desirable to a seller in comparison to your buying competition that result from this early work is, you can close sooner if needed (some sellers have urgent needs to close as soon as possible), and the sellers are more comfortable knowing you have already been fully underwritten…this provides them with "insurance" that there will be no last minute backing out due to loan denial.
Loan Officer Experience Proves Successful
Research shows that home buyers begin thinking about buying at least a year before they move, and many times up to 2 years before. I see it all the time, where a buyer has been in that 1-2 year time window and they are starti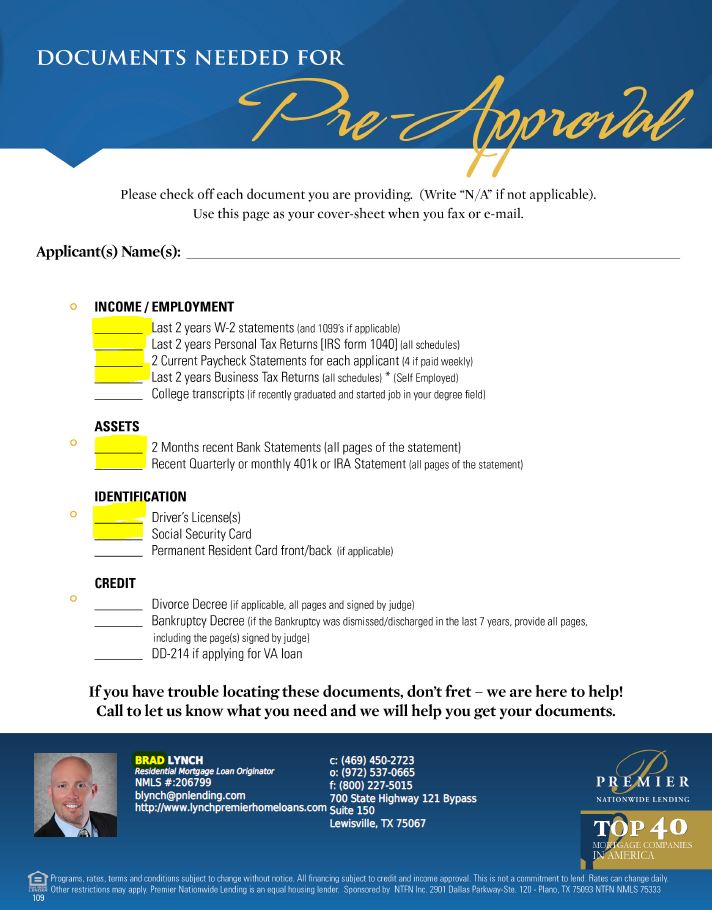 ng to "move and shake" leading up to the final decision to move, and that would rather just get a pre-qualification to go look at homes (successful Realtors will not take a buyer to home shop without a pre-qualification or pre-approval) as in their mind, they aren't 100% committed, but on that first or second trip out, they come across a home that just went on the market and already has bids on it, and now you are stuck with just a pre-qualification (no official underwriting) and you may need 30+ days before you can close. Pre-approvals with MOST lenders are free. Do not procrastinate, and do it the right way!
Home Loan Processing Items
The image here shows a standard list of items that are needed for processing a home loan. The highlighted items are the most common items, but depending on whether you are straight out of college into your new job (college transcripts), or recently divorced (divorce decree), had a bankruptcy in the past, or are applying for a VA loan, many of these will not pertain to you. Additionally, some borrowers will qualify with only the most recent years income documentation rather than 2. If you can get all this together before you meet your loan officer, you will be ahead of the game. Call me for questions or a pre-approval.
For more posts to prepare for buying, see below: